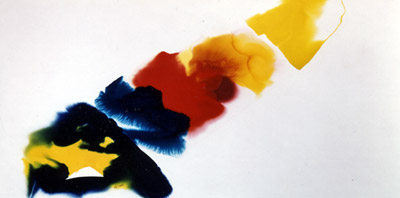 Phenomena Shadow Light Sundial 1993
watercolor on paper mounted on canvas
46 x 90-1/2 inches 116.5 x 230 cm



Phenomena States of Trance 1993
watercolor on paper mounted on canvas
46 x 148 inches 116.5 x 376.5 cm



Phenomena Draw the Curtain 1993
watercolor on paper mounted on canvas
46 x 118 inches 116.5 x 300 cm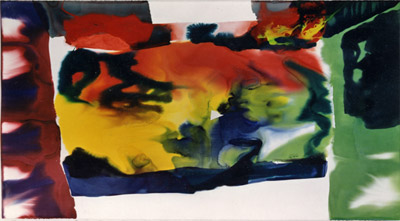 Phenomena Continental Shelf 1993
watercolor on paper mounted on canvas
46 x 83-1/2 inches 116 x 212 cm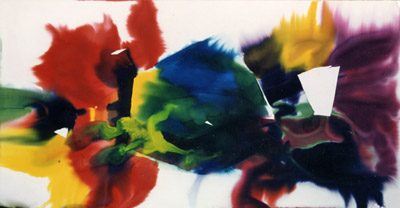 Phenomena The Still Center 1993
46 x 87-1/2 inches 116 x 222 cm
watercolor on paper mounted on canvas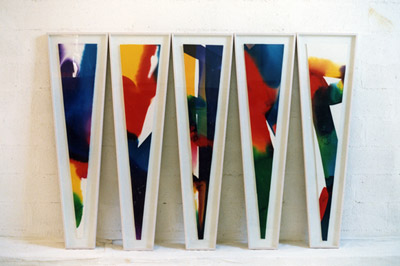 Another project with architectural associations, but one that remains to be realized, however, is a set of works for stained glass windows for installation in a structure designed by Yves Bayard.
Five watercolors on view represent the artist's intentions for the soaring windows, which would expand as they grow upward, in reverse of the protective, enclosing walls of the tall, conical supports. If ever realized, the ecumenical shrine (if it may be called that) would comprise an exhilarating space where the visitor could be at once free from outside distractions and drawn upward in a kind of spiritual release.
Frank Anderson Trapp 1994
from the exhibition catalogue, Water and Color
© Imago Terrae 1994
for
Meditation Tower

left to right
Phenomena Due South Meditation Tower, 1992
Phenomena Due North Meditation Tower, 1992
Phenomena The One That Got Away, North South East and West Meditation Tower, 1992
Phenomena Due East Meditation Tower 1992
Phenomena Due West Meditation Tower 1992
51-1/2 x 10-1/2 inches 131 x 26.5 cm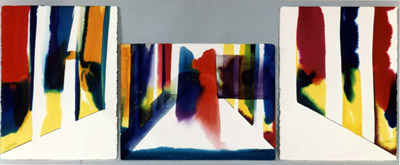 In 1988, Jenkins became involved with another large-scale undertaking when he was invited to visit China in order to create a set of silk banners to be displayed on the Great Wall of China and silk backdrops for the entire stage of the Great Hall of the People. ... The three watercolors of Peking Prism, which form a kind of triptych, recall that enterprise in the present exhibition. The upright emphasis in the aligned vertical elements in the side panels strongly alludes to the processional function of the Chinese banner. That motif is reiterated at the sides of the middle panel, as the meeting of the focal elements at the very center is, so to speak, witnessed and commemorated.
Frank Anderson Trapp 1994
from the exhibition catalogue text, Water and Color
© Imago Terrae 1994
Peking Prism
left to right
Phenomena Peking Trine Left 1998
29-1/2 x 22-1/2 inches 75 x 56.5 cm
Phenomena Peking Trine Center 1988
22-1/4 x 29-1/2 inches 56.5 x 75 cm

Phenomena Peking Trine Right, 1988
29-1/2 x 22 inches 75 x 56 cm